Mold Removal Lone Tree
When you begin to see signs of mold in your family home, then you need to call the mold removal Lone Tree crew at 911 Restoration Douglas County right away.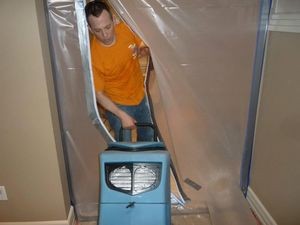 Living with mold can be damaging to both the structure of the home and those living inside its walls. It is necessary to eradicate all traces of the substance quickly in order to  prevent health issues from arising in anyone who is in the residence.
We keep our office available 24/7/365, making it possible for you to call us around the clock to make an appointment with our mold removal Lone Tree staff.
Once we are able to conduct a free visual mold inspection then we will have an idea of the extent of the mold growth, allowing us to determine exactly what work needs to be done.
We are very thorough about our procedures, because we make it our top priority to leave your home looking and feeling like it has never been affected by fungus or mildew.
With so many years of experience dealing with mold infestations, you can rest assured that when we are on a job we complete it correctly the first time around, so call us today!
Mold Can Cause Health Issues When Not Taken Care Of Immediately
We all know that mold does not look aesthetically pleasing when it is growing on the ceiling or walls, but many homeowners are not aware of the fact that it can cause pose health risks when it is not removed right away.
Inhaling the fungus spores on a regular basis can cause you to experience symptoms such as:
Wheezing

Asthma

Coughing

Headaches

Sneezing

Itchy eyes

Skin rashes
Our mold removal Lone tree technicians have all the top of the line gear needed to thoroughly eradicate any mold, fungus and mildew from the premises.
You can trust that  when we are finished with your home that it will be sanitized and disinfected. It is our duty to make sure that your living space is a a safe place for you and your family, so call us today!
Fungus Remediation Is Our Forte
We know how important it is for homeowners to have access to around the clock customer service, which is why we make it our priority to help you at all hours of the day and night.
Answering all your questions and calming any concerns you may have is something we are happy to do.
Mold can be a tricky thing to understand, which can be concerning, but that is what we are here for- to help you understand.
Staying completely accessible to our customers is important to us, mainly because we strive to always keep your wellbeing intact during a potentially overwhelming time.
Let us be your shoulder to lean on during the entire length of the fungal damage restoration process, and give our mold removal Lone Tree agents with 911 Restoration Douglas County a call today!